Published: 21 January 2020

21 January 2020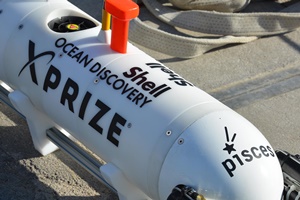 The Atlantis project - The Atlantic Testing Platform for Maritime Robotics: New Frontiers for Inspection and Maintenance of Offshore Energy Infrastructures is led by INESC TEC, through the Centre for Robotics and Autonomous Systems (CRAS). With the involvement of EDP and the support from various technology and academic partners, the project aims to promote the development of technologies for the monitoring and maintenance of offshore wind infrastructures. The test center will be set up in Viana do Castelo, Portugal.
The Atlantis will focus on the assessment, maintenance and repairing of offshore wind infrastructures, and several autonomous robots (underwater, surface and air) will be developed and tested in various industrial scenarios, like the assessment of mooring lines, the monitoring of underwater structures or the cleaning of turbines.
As part of the project, the centre will use the WindFloat Atlantic to validate and demonstrate robotic applications developed by research centres or technology companies, members of the consortium that can contribute to the sustainability of the sector.
EDP, via the NEW Centre for New Energy Technologies and in close collaboration with Principle Power (WindFloat technology), will lead the offshore demonstration component.
The project, with an expected duration of three years, required a total investment of € 8.5 million, provided by the H2020 - Framework Programme for Research and Innovation.
In addition to INESC TEC and EDP NEW Centre for New Energy Technologies (Portugal), the consortium includes eight partners from five countries: Teknologian Tutkimuskeskus VTT and ABB (Finland), Principle Power France and ECA Robotics (France), Space Application Services (Belgium), IQUA Robotics and Universitat de Girona (Spain) and RINA Consulting (Italy).