Published: 16 November 2021

16 November 2021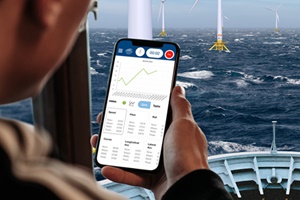 The Carbon Trust's Offshore Wind Accelerator (OWA) has launched a new dedicated app, designed to estimate the motion and performance of seagoing vessels by using the in-built sensors within a smartphone or tablet device.
The Vessel Motion Monitoring App (VMMA) is developed with support from Enigma Interactive and Seaspeed Marine Consultants. The VMMA will measure and compare the performance of crew transfer vessels (CTV's) in different sea states, when transporting wind farm technicians offshore, and when transferring between offshore structures.
Previous OWA research undertaken in 2014 established performance plots, or 'P-Plots', as a method of quantifying and displaying the performance of vessels operating on offshore wind farms. However, generating P-Plots is time consuming. Understanding the impact that P-Plots have in optimising the industry's operations led the OWA to pioneer an app that would rapidly produce P-Plots efficiently and effectively by using the motion sensors built into a smartphone or tablet device.
This app is design primarily for the offshore wind industry, with a dedicated login feature that allows pre-approved users to record, share and connect specific 'transit' and 'transfer' P-Plots through the app and associated web portal. Users can evaluate a CTV's motion and performance in various sea states.
The basic functionality of the app (which does not require a dedicated login) allows a user to display and record vessel attitude, acceleration, speed, position, and course using the sensors within a smartphone or tablet device. This data can then be saved and exported to be further analysed by the user.
The accuracy of the data provided by the app has been validated against a permanent Vessel Motion Monitoring System, through an offshore testing process at Rhyl Flats windfarm (RWE) onboard the NSL Excalibur CTV. It is however not intended to replace these dedicated systems or be used for contractual purposes.