Published: 20 October 2022

20 October 2022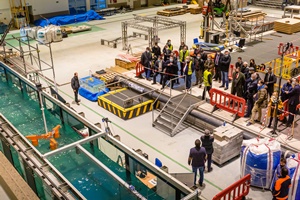 Gazelle Wind Power (Gazelle), the developer of a hybrid modular floating offshore wind platform, has received the results of its basin model tests at the Environmental Hydraulics Institute - University of Cantabria (IHCantabria) facilities in Spain.
The test report, witnessed by DNV and Safier Ingenierie, verified the feasibility of the Gazelle platform's concept in a wide range of conditions. A prototype model of Gazelle's platform was analysed through a variety of assessments including surge and yaw excitation tests, wind alone tests, wave alone tests, decay tests, and more. The main results from the tests were based on the 10 MW floating offshore wind turbine (FOWT). The data collected from the various tests will be used to create a benchmarking database which will be the basis of the next phase of the design loop in conjunction with Safier Ingenierie.