Published: 26 September 2023

26 September 2023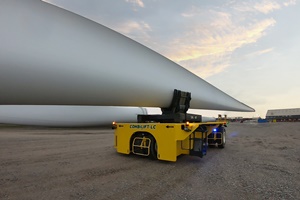 Combilift, a manufacturer of multidirectional, articulated forklifts and straddle carriers, has announced its move into offshore wind sector with the launch of a new product designed to meet the load handling demands of large-scale offshore wind manufacturers.
The Combi-LC, for which the design patent is pending, allows for the movement of wind turbine blades and towers through production stages, and to storage locations. The Combi-LC facilitates the transport of wind turbine components, handling lengths of up to 115m and weights of about 70t. The equipment involves two vehicles working in tandem, communicating and operating simultaneously to secure the load at both ends, and move it safely to another location. Siemens Gamesa has become the first company to leverage the new technology by signing an order for a number of the bespoke load carriers. Combilift hopes to generate over €50m in revenue per year in this market segment by 2026.