Published: 03 October 2023

03 October 2023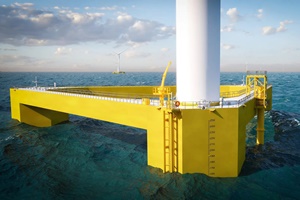 Principle Power has expanded its WindFloat product portfolio to include two fully industrialised products: the existing WindFloat tubular design, now called WindFloat T, and the new flat panel, pontoon-based solution, known as the WindFloat F.
The WindFloat F is designed for ultra-shallow wind turbine integration in ports as shallow as 9 meters. The additional buoyancy of the pontoons minimises column diameter and footprint, creating more options within supply chains. Combining flat panel architecture, widely used in shipbuilding and oil and gas, with technology from the WindFloat T, the new design includes the same 3-column architecture and an improved hull trim system. Both WindFloat products are market-ready.