Published: 04 October 2023

04 October 2023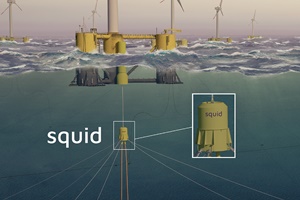 Encomara has introduced two solutions for floating offshore wind installation: Swift and Squid. The Strategic Wind Infrastructure (Swift) system adopts a lifecycle cost approach, integrating both new and established technologies to reduce the levelised cost of electricity in floating wind projects.
Squid serves as a rapid connector for power cables, mooring lines, and anchor interfaces. This system streamlines the integration of hardware components, including power cables, connectors, mooring lines, and anchor interfaces, offering a 'Plug to Power' (P2P) capability. During deployment at Floating Offshore Wind Turbines (FOWT), Squid is placed into a dedicated J-tube in a single lift. The J-tube configuration is adaptable to various hull interface configurations.