Published: 28 September 2023

28 September 2023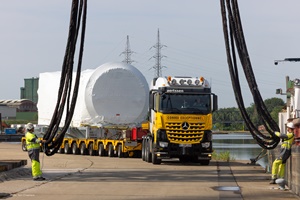 ZF Wind Power and Vestas have announced the first prototype of the V236-15.0 MW powertrain has left ZF's factory in Belgium via water transport. After different studies with multiple experts, including De Vlaamse Waterweg nv (Flemish Waterways plc), ZF decided to transfer this powertrain via inland waterways and international sea transport to its destination in Denmark.
The quay is only three kilometres from its plant. As of 2024, ZF Wind Power will transfer powertrains per barge from the plant in Lommel to the harbour in Antwerp daily. In Antwerp, a seagoing vessel will be loaded completely with powertrains on its way to its destination. Powered by a swept area of 43,742 m², the Vestas V236-15.0 MW can produce up to 80 GWh per year, depending on site-specific conditions.