Published: 01 November 2022

01 November 2022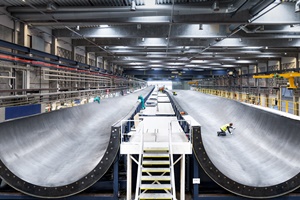 Vestas will begin serial production of V236-15.0MW blades from the third quarter of 2023 at its blade factory in Taranto, Italy. The 115.5-metre blades make up a swept area exceeding 43,000 m2.

The Taranto factory will add the production of V236-15.0 MW blades to the production blades for the 2 MW and 4 MW platforms. Vestas has manufactured wind components in Taranto since 1998 and currently employs around 750 workers. The V236-15.0 MW blade production in Taranto will help diversify the supply of key components for the growing European offshore market and expand Vestas' flexible manufacturing setup. Vestas is developing and manufacturing the V236-15.0 MW prototype and test blades at its factory in Nakskov, Denmark, and will also begin serial production of V236-15.0 MW blades at the Nakskov facility from second half of 2023. Vestas will also produce V236-15.0 MW nacelles at a new assembly factory in Szczecin, Poland, and at the existing assembly factory at Lindø Port of Odense in Denmark.