Published: 02 November 2022

02 November 2022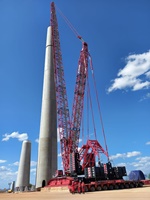 Mammoet has introduced a CC 38.650 crawler crane to its fleet in Brazil during the third quarter of 2022. The crane is currently on site to complete its first tasks at the Cajuina Wind Farm in Angicos region, Rio Grande do Norte, Brazil.
The Cajuina Wind Farm will be comprised of 55 wind turbine generators (WTGs) which will have a total capacity of 314MW. Mammoet's new machine will specifically focus on concrete tower erection, with boom lengths ranging from 105 to 129m (344 – 423ft.), while the crane has the capacity to lift sections up to 255 tons.