Published: 11 September 2018

11 September 2018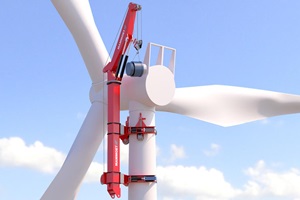 Mammoet introduces the WTM 100 and the WTA 250, two cranes designed to conduct wind turbine construction and maintenance projects. Both cranes use the turbine's tower as a point of support, allowing them to lift and lower components to greater heights than the equipment that is currently used.
The Wind Turbine Maintenance Crane 100 – or WTM 100 in short - works according to a similar principle. The crane has a capacity of 100 metric tons. It is attached to two pre-installed hoisting eyes and can pull itself and the load up along the turbine using the tower for support. The WTM 100 has been equipped with claws that wrap around the tower to keep itself steady. The use of this crane requires minimal modification. It can be used on turbines that have been equipped with pre-fitted hoisting eyes and, in some cases, it can also be used on existing turbines. The WTM fits into two standard-sized containers.
The Wind Turbine Assembly Crane 250 - or WTA 250 in short - has a capacity of 250 metric tons. The WTA 250 crane will be developed in close cooperation with the engineering firm MECAL; MECAL will provide the wind turbine tower design. It is installed on a guiderail that runs along the bottom turbine section and can lift the next section using the turbine's tower as support. Once the next section is installed and equipped with a guiderail as well, the crane can push itself up along the rail and repeat the process for all of the subsequent turbine sections. Once construction has been completed, the guiderail can either be removed, or remain in place to facilitate easy access for future maintenance operations. The WTA only needs two transport trailers to be moved on site.