Published: 11 September 2018

11 September 2018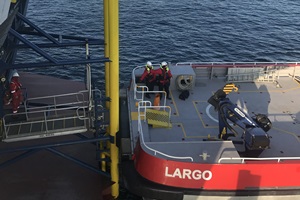 The floatel MV Bluefort, used in the offshore wind industry, has a new boat landing facility that is capable of transferring up to 150 turbine technicians into the field each day.
Workers staying onboard the 142 metre MV Bluefort can get onto crew transfer vessels (CTV) and out to turbines with a rate of 15 seconds per person. The construction of a specially-designed landing is suitable for at least six different types of CTVs.