Published: 08 February 2019

08 February 2019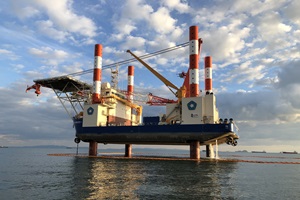 Penta-Ocean Construction held the completion ceremony of its CP-8001, a GJ-3750C GustoMSC construction jack-up design. The CP-8001 is the first and largest DP2 jack-up built in Japan for offshore wind and civil construction projects off the coast of Japan.

Penta-Ocean has ordered the GJ-3750C GustoMSC design at the Japan Marine United (JMU) shipyard in the fall of 2016. The GustoMSC GJ-3750C jack-up design is specifically tailored to Penta-Ocean's requirements. It is able to instal large-scale marine structures such as 10MW class offshore wind turbines in water depths up to 30 metres with leg lengths of 66.7 metres. The accommodation offers living quarters for a maximum of 120 people as well as office rooms and recreational rooms. In addition the GJ-3750C is equipped with a heli-deck for crew changes and emergency response. The jacking system is capable to lift the platform in a continuous motion with 40 cm per minute and has a pre-load capacity of 3,750 tons per leg.