Published: 20 October 2017

20 October 2017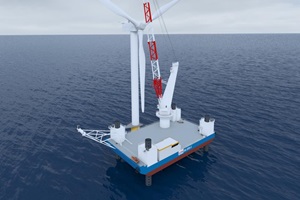 The SEA-3250-LT is a dedicated low CAPEX wind turbine installation solution for the emerging US offshore wind market. It's a rationalised jack-up design, peeled down to the essence of safe and efficient wind installation.
The design comprises a GustoMSC hydraulic "Pin in Hole" jacking system capable of the large number of jacking moves required for offshore wind turbine installation. An 882 sht (800 mt) pedestal crane, fitted with a boom of approx. 328 ft (100 m), enables the installation of the latest generation of 8 to 9.5MW turbines and foundations. In the case of foundations exceeding the capabilities of this crane, the unit can serve as a Jones Act compliant feeder solution to a larger foreign vessel. The SEA-3250-LT is designed to operate in the typical environmental conditions of the US NE-coast and in water depths of up to 148 ft (45 m). Furthermore the jack-up can be upgraded with a full accommodation block and its own propulsion.