Published: 19 October 2017

19 October 2017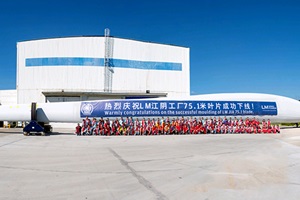 LM Wind Power has announced the launch of the company's longest blade in China: the LM 75.1 P, tailor-made for Goldwind's new 6.7MW offshore wind turbine.
Goldwind's 6.7MW platform is designed specifically for the Wind Class I offshore areas in South China off the coasts of Fujian and Guangdong. The first LM 75.1 P prototype blade was produced on September 12 in the Jiangyin (China) plant.