Published: 15 November 2016

15 November 2016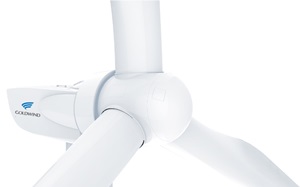 Xinjiang Goldwind Science & Technology Co., Ltd, (Goldwind) has released its all-new 3MW smart wind turbine platform, the GW3S. The GW3S turbine platform features Scalable capacity, Smart turbine controls and a Structured design.
The platform design maintains Goldwind's Permanent Magnet Direct Drive (PMDD) turbine technology and incorporates attributes from the GW1.5 and GW2.5 megawatt platform. The GW3S, adaptable for low and ultra-low wind speeds, will range from 3.0MW to 3.4MW and features rotor diameters up to 140 meters. The first deliveries for key international markets is planned for late 2017.