Published: 09 May 2018

09 May 2018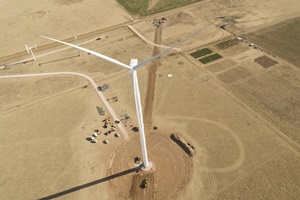 Goldwind Americas has announced that it has completed the installation of its GW 3MW(S) Smart Wind Turbine test unit at the UL Advanced Wind Turbine Test Facility located at West Texas A&M University in Canyon, Texas.
The scalable 3MW test turbine has an assembled hub height of 130 meters and a blade tip height of 199.2 meters. Developed by Goldwind, the onshore GW 3MW(S) prototype features scalable rated capacity of up to 3.57MW and a rotor diameter of 136 meters. The platform's structured design maintains Goldwind's Permanent Magnet Direct Drive (PMDD) turbine technology and incorporates attributes from the GW 1.5 and GW 2.5 MW platforms. Goldwind utilized LM Windpower for the supply of the blades and Broadwind Energy for the supply of tower components, all of which were transported by Anderson Trucking Service. Wanzek Construction, based out of West Fargo, ND, led the project's construction. This is the first prototype Goldwind has installed and tested outside of its headquarters in China. The U.S.-based prototype will be fully commissioned and testing will commence by May 2018.