Published: 19 December 2018

19 December 2018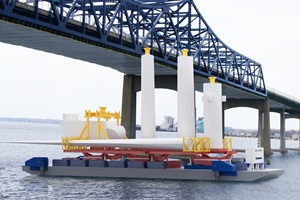 London Offshore Consultants (LOC) has provided Barge Master and GustoMSC with an approval in principle for the work method of their Steady Top Feeder solution. Barge Master and GustoMSC asked LOC to act as if they were appointed as the marine warranty surveyor of an offshore wind project and on that basis to assess whether the solution of the Steady Top Feeder is in principle acceptable to them.
The Steady Top Feeder solution allows the contractor responsible for installation of the turbines at an offshore wind farm location to have the components delivered offshore next to the jack-up and under the hook of the crane. The motions of the seagoing barge are compensated by the BM-T700 platforms. This enables lift off from a steady platform.
Although GustoMSC sees sufficient potential for larger purpose-built Jones Act compliant installation jack-ups to cope with the expected increase in turbine size, weights and hub heights, the company sees the Steady Top Feeder Barge as a solid solution for the first wave of US projects within the remaining timeframe.