Published: 16 September 2019

16 September 2019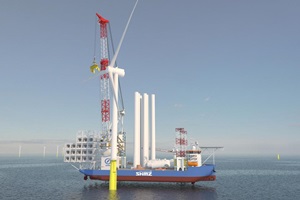 Japanese construction conglomerate Shimizu Corporation has ordered the construction of the GustoMSC SC-14000XL jack-up with an integrated telescopic leg crane with the shipyard Japan Marine United. This self-elevating platform is capable of installing offshore wind turbines up to 12MW.
GustoMSC, an NOV company, has worked with Shimizu Corporation on the design of the vessel, while Shimizu will work in cooperation with Fukada Salvage Construction on the operations management of the vessel. The JMU shipyard will carry out the construction of the unit with an expected delivery late 2022.
The GustoMSC Telescopic Leg Crane offers a combination of high hoisting capability for turbine installation and heavy load capability for foundation installation. The telescopic boom avoids protrusion of a very long crane boom outside the hull dimensions during transit, increasing transit conditions and manoeuvrability in ports. The crane capacity for foundations sums up to 2,500 tonnes at a height of 121 metres, and wind turbine components can be installed at a height of 161 metres, with a maximum load of 1,250 tonnes.