Published: 18 December 2018

18 December 2018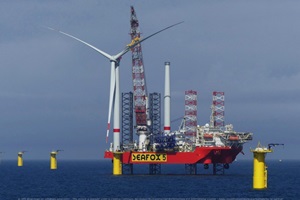 Fred. Olsen Windcarrier has made an agreement with the Seafox International Group for the acquisition of a 51% ownership in the jack-up vessel Seafox 5. By this move Fred. Olsen Windcarrier will include this vessel under its commercial, technical and administrative management as an integral part of their fleet of jack-up vessels for offshore wind.
Singapore based Keppel Offshore and Marine Ltd. indirectly owns the remaining 49% of the vessel. Seafox 5 will join the fleet within the end of the year, and the first job for the vessel under the Fred. Olsen flag will be the "Hohe See" project in 2019. Seafox 5 is a multi-purpose, four-legged and self-propelled DP2 jack-up construction vessel. With an overall length of 151 meters and a breadth of 50 meters, Seafox 5 features a 1,200-ton main crane and can accommodate up to 150 personnel. The vessel was built in 2012 and is specifically designed to withstand harsh environment offshore conditions and is capable of operating throughout the year in water depths of up to 65 metres.