Published: 22 January 2021

22 January 2021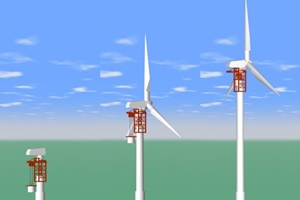 Mammoet has started joint effort with Sumitomo Mitsui Construction and Fhecor Ingenieros Consultores for the development of an onshore wind turbine generator erection system and tower structure. Its self-climbing installation technology erects each wind turbine tower in sections.
The design was by both Sumitomo Mitsui Construction and Fhecor whereas the self-climbing lifting system's conceptual design was by Sumitomo Mitsui Construction. Mammoet contributed in terms of experience and engineering. Each tower is to be constructed in sections and raised in stages to its full operational height.
This system allows the nacelle to be affixed to each turbine tower at a much lower height than is currently the case. It will also allow turbine blades to be connected to the nacelle at a lower height and ensure that equipment currently in use for onshore wind projects does not need to be replaced as hub heights grow.