Published: 23 February 2021

23 February 2021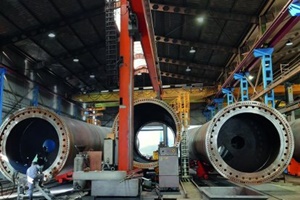 Based on the latest NSK roller guide technology, linear motion solutions are allowing Talleres Ganomagoga to achieve accurate movement of its welding machines as the towers increase in length during production.
The company uses large welding machines based on a column and boom concept. These 'circular welding columns' weld the internal and external joints of the long steel hoops that form the cones of wind turbine towers. In terms of capacity, the machines can accommodate cones measuring up to 7m in length and 5m in diameter.
To help expedite its welding process, Talleres Ganomagoga required a way of moving a machine along the length of a tower as it grew in size during manufacture. The company joins the cones together by manoeuvring a circular welding column along a specially devised system of linear sliders and rails from NSK's RA series. NSK's RA series leverages the company's combined expertise in roller bearing and linear guide technologies.