Published: 01 November 2016

01 November 2016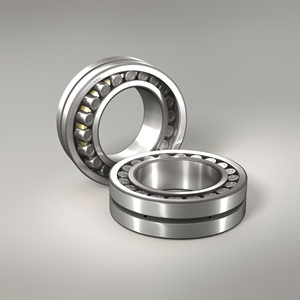 NSK engineers have developed a variety of different designs that are optimally matched to the attributes required of main rotor bearings. For instance, elevated levels of mechanical stress are prevalent as the rotor is exposed to very high wind loads.
Although rotational speeds are relatively low at 5 to 20 rpm, the main rotor bearing has to be capable of withstanding both radial and axial loads, including the resulting bending movement of the rotor shaft. NSKHPS high performance spherical roller bearings featuring a high load factor have been developed specifically for applications of this type, and are manufactured and heat treated in accordance with NSK's internal Wind Standard U 303. The breadth of the new range means that a selection of different designs are available.
Related Articles
Noesis Solutions has announced the further extension of its international distribution network through the appointment of new resellers operating from Russia, Israel and Poland. OCTAVA+ Company (wit ...Windtech International - Windtech International is the worldwide information magazine for the wind energy industry. It provides the ideal forum for the promotion and explanation of new products, techniques and applications. This trusted and well-respected source of information is read regularly by an increasing readership

Arise Windpower AB has concluded a conditional agreement with Ownpower Projects AB (OPP) for the acquisition of a fully permitted project in Solberg to the west of Örnsköldsvik, comprising some 40 win ...Windtech International - Windtech International is the worldwide information magazine for the wind energy industry. It provides the ideal forum for the promotion and explanation of new products, techniques and applications. This trusted and well-respected source of information is read regularly by an increasing readership

In Nowy Staw, near the city of Gdansk, the first construction vehicles will soon arrive on site, marking the start of construction for Innogy's fourth wind farm in Poland. 19 wind turbines manufactu ...Windtech International - Windtech International is the worldwide information magazine for the wind energy industry. It provides the ideal forum for the promotion and explanation of new products, techniques and applications. This trusted and well-respected source of information is read regularly by an increasing readership

Skanska has signed a contract for a confidential client, to build a wind farm in Chile for US$ 76 million. The construction contract will be included in the bookings for Skanska LA in the first quarte ...Windtech International - Windtech International is the worldwide information magazine for the wind energy industry. It provides the ideal forum for the promotion and explanation of new products, techniques and applications. This trusted and well-respected source of information is read regularly by an increasing readership

DONG Energy buys A2SEA for the price of approximately DKK 700 million from Dansk Kapitalanlæg, Lønmodtagernes Dyrtidsfond and Clipper Projects, and a series of minor shareholders. A2SEA is a supplie ...Windtech International - Windtech International is the worldwide information magazine for the wind energy industry. It provides the ideal forum for the promotion and explanation of new products, techniques and applications. This trusted and well-respected source of information is read regularly by an increasing readership