Published: 29 April 2021

29 April 2021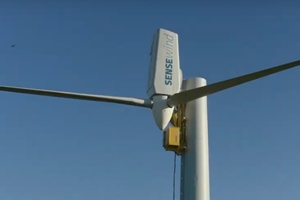 SenseWind has completed a demonstration of their Sense Up-Tower system, a self erecting nacelle and service system suitable for both onshore and offshore wind turbines.
The company has demonstrated the Sense system in action, installing a modified Vestas V27 rotor nacelle assembly on a 26 metres high tower at its test site in Northern Ireland. The system eliminates the need for large cranes and crane vessels. The equipment is modular and only requires standard, readily available cranes and vessels. The system can also be used in reverse to allow exchange of components and complete rotor nacelle assemblies. Further testing at the assembly and test facilities is planned, to validate design models and further improve functions for the design of a multi-megawatt commercial demonstrator. The company is now discussing the roll out to a full operational system with several partners, investors and clients.