Published: 25 January 2022

25 January 2022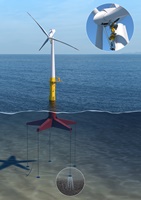 The UK's Department for Business, Energy, and Industrial Strategy (BEIS) has granted £10 million to technology partners - SENSEWind, Glosten and Subsea Micropiles, and six delivery partners to design and construct a SENSE PelaStar floating wind turbine demonstrator off the coast of Scotland.
The SENSE concept (stands for Self-Erecting Nacelle and Service) looks to upend the conventional approach to installation and O&M by eliminating the need for special cranes and allowing the full Rotor Nacelle Assembly (RNA) to be installed and serviced directly on site and is particularly suited to deep water floating projects. The SENSE PelaStar project will feature SENSEWind's turbine self-installation system, the PelaStar Tension Leg Platform (TLP) floating foundation from Glosten and Subsea Micropile anchors. The SENSE concept will be put through its paces on a fully operational 2MW floating wind turbine with installation set for late 2023. The SENSE PelaStar project requires a total investment of £22 million.