Published: 27 December 2022

27 December 2022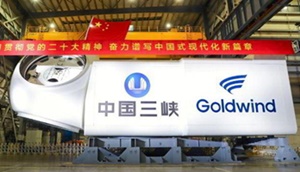 The first nacelle for a 16MW offshore wind turbine, jointly developed by China Three Gorges (CTG) and Goldwind, has rolled off the assembly lines from a factory in Fujian province in China.
The turbines have a 252-meter rotor diameter and a 50,000-meter swept area. The companies target the Chinese offshore wind market with the 16MW turbine.