Published: 06 January 2023

06 January 2023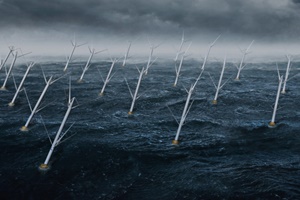 Hydro, a Norwegian aluminium and energy company and World Wide Wind , a Norwegian company developing a floating wind turbine, have signed a Letter of Intent (LoI) to explore the use of aluminium in the renewable wind industry.
The two Norwegian companies are partnering up to develop floating wind turbines with a design specifically meant for offshore conditions. The goal is to use sustainable and recyclable materials in the construction, including aluminium. The collaboration comprises the following elements:
Detailing of turbine design including the use of aluminium
Production of prototypes
Building a consortium of industrial partners.
World Wide Wind is developing a new type of floating wind turbine for deep waters. And according to Trond Lutdal, CEO of World Wide Wind, the new design gives them an opportunity to use aluminium components in parts of the wind turbine structure. World Wide Wind's integrated floating wind turbines are scalable up to 40MW. For Hydro this is an entry into the wind turbine production chain.