Published: 14 December 2022

14 December 2022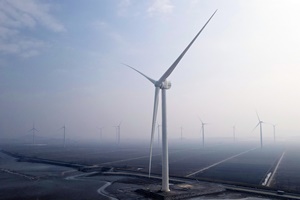 Doosan Enerbility has announced that it had obtained a type certification from Dewi-Occ, the Germany-based international certification authority, for its 8MW offshore wind turbine; DS205-8MW.
Since 2018, Doosan Enerbility has been pursuing the development of the 8MW offshore wind turbine with the support of the Korea Institute of Energy Technology Evaluation and Planning(KETEP). This past January, a prototype was installed in Yeonggwang of South Jeolla Province. The DS205-8MW was designed to be suitable for the Southwest Sea environment, which has notably lower wind speeds compared to Europe. The diameter of the rotor is 205 meters and the blade length is 100 metre. The 100 meters-long blade was developed jointly by Doosan Enerbility with the Korea Institute of Materials Science (KIMS) and the blade manufacturer Human Composites. At the Buan Wind Power Testing Facility, the structural soundness and security of the blade were verified by conducting repeated fatigue load tests on the design lifecycle of 25 years and load testing under extreme conditions such as typhoons.