Published: 06 March 2020

06 March 2020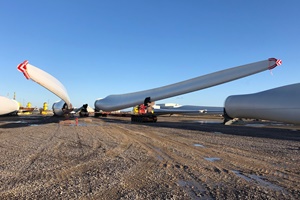 Mammoet was contracted by Siemens Gamesa to transport three 94 metres long blades from the storage area at the Siemens Gamesa factory in Aalborg, Denmark, to the nearby quayside.
The wind blades are destined for a new prototype wind turbine that Siemens Gamesa will be testing. A custom trailer consisting of 2 x 6 Nicolas MDEL axle lines combined with a four-axle truck was built. The total length of the new trailer combination with the blade measured more than 100 metres. The trailer was built with conventional axle lines at the Mammoet yard in Brande and then transported in one piece to the storage area in Aalborg. The blades were delivered directly to a vessel, so they could be loaded directly, which avoided having to store them at the quay.