Published: 01 February 2021

01 February 2021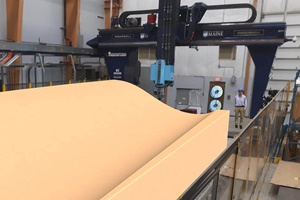 The University of Maine Advanced Structures and Composites Center has been awarded $2.8 million from the US Department of Energy Office of Energy Efficiency and Renewable Energy to develop a additive manufacturing — 3D printing — solution for fabricating large, segmented wind blade molds.
In addition, the UMaine Composites Center will collaborate on a $4 million award to Oak Ridge National Laboratory (ORNL) to apply robotic deposition of continuous reinforcing fibers in wind blades.
Large wind blade molds will be printed on the polymer 3D printer located at the UMaine Composites Center using recyclable bio-based materials reinforced with wood. By combining 3D printing manufacturing with bio-based feedstocks, the team estimates that new blade development costs can be reduced by 25% to 50% and accelerated by at least 6 months. Molds produced using these materials can be ground up and reused in other molds, making them a more sustainable solution.
The molds will incorporate 3D printed heating elements using a new technology developed at ORNL. Control of mold surface temperatures is a critical mold manufacturing requirement, and the new ORNL technology enables robotic deposition of heating elements, reducing mold fabrication time and cost.
TPI Composites and Siemens Gamesa (SGRE) are partnering with the UMaine Composites Center on the project.