Published: 02 February 2021

02 February 2021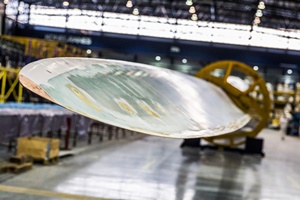 Dynamic Load Monitoring (DLM) has provided a wireless weighing solution for MHI Vestas Offshore Wind's facility at nearby Fawley, UK.MHI Vestas needed a way of measuring the weight of their 80 metreslong turbine blades at both the root and the tip upon completion of the painting process. The blades are made on the Isle of Wight before being transported to Fawley for painting and weighing.
Accuracy is critical as once the blades are weighed they are classified as light, medium and heavy for use on each turbine. Once the total weight of the blade is determined, the manufacturer is able to calculate how much ballast is applied to each blade to create the sets of three to make up a turbine.
DLM provided a 25t capacity Telemetry Tensile Link and 20t capacity S-cell Load Cell. The data is read by the operator on two separate wireless handheld displays. The load monitoring equipment is rigged beneath the hooks of the site's overhead lifting equipment.