Published: 03 February 2021

03 February 2021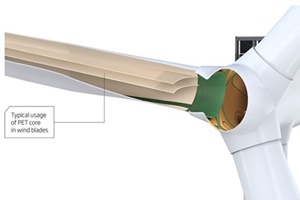 Diab Group has chosen Sabic's new LNP Colorcomp compound using nano technology to reduce weight and improve mechanical properties of sandwich structures with polyethylene terephthalate (PET) foams, which are used as the core material of wind turbine blades.
Diab selected the compound for production of its Divinycell PY PET foam core series. It reduces the foam's cell size by a factor of up to two, while maintaining the same density and decreasing the cell size dispersity. These improvements to the core foam material can help designers create longer blades.