Published: 24 January 2020

24 January 2020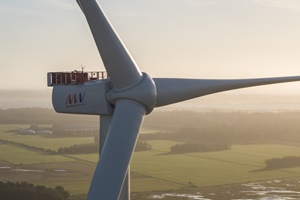 Following the V174-9.5 MW turbine's market launch in February 2019, the prototype has now been installed at Østerild National Test Centre in Denmark. The test program at the Danish Test Centre Østerild will enable MHI Vestas to monitor the reliability and performance output of the offshore wind turbine.
With limited design changes, the V174-9.5 MW prototype builds on the V164 platform, generating more energy from lower wind speeds. With 85-meter blades, the turbine has a tip height of 197 meters. The first units scheduled for commercial installation as part of the German offshore wind projects, are for the
Baltic Eagle
and
Arcadis Ost 1
offshore wind farms in 2022.