Published: 28 September 2022

28 September 2022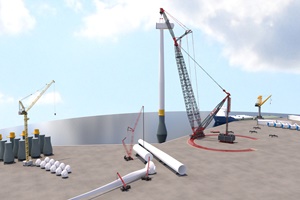 As the industry moves towards 20MW turbines, floating wind components continue to grow in size and weight. With the launch of the SK6,000, Mammoet is providing the next generation crane needed to install next generation turbines.
The crane has a fixed jib configuration and is able to lift 3,000 tonnes at 220m height. The crane can load out floating foundations using its main boom, then immediately use its fixed jib to assemble the turbine tower. The new jib design will be incorporated into future Mammoet offshore wind project proposals, for deployment to a suitable project at the first possible opportunity.