Published: 18 September 2023

18 September 2023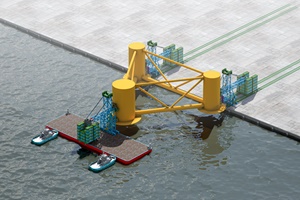 Roll Group and Hebetec Engineering have announced their shared patented solution for offshore wind farm load, called the FoWeLo system.
The FoWeLo system was developed to solve two industry challenges: the high cost and port logistics constraints of launching floating offshore wind foundations. The system offers a design using existing hydraulic equipment and temporary steel structures. It is designed to be fully containerised with no restrictions due to tidal effects. The solution uses existing gantry, mooring, and ballasting equipment from Roll Group, whereas the strandjacks and APS skidding equipment are provided by Hebetec Engineering.