Published: 28 September 2022

28 September 2022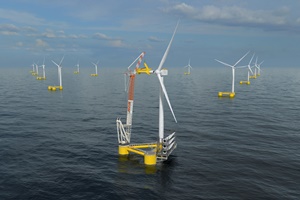 Fred. Olsen 1848 and Huisman have signed a memorandum of understanding (MoU) for a Floating Maintenance Solution that aims to solve the challenge of major component exchange at a floating wind site.
Fred. Olsen 1848 has innovated a complete solution and operational procedure for component exchange for floating wind turbines. To develop the crane required for such operation, Fred. Olsen 1848 turned to Huisman, a company specialized in tailor made lifting solutions. The complete solution enables the exchange of turbine components at the offshore site and further removes the need for dynamic lifts when performing the component exchange offshore. The development of the solution is now entering a new phase where the next milestone is to conclude a detailed project FEED study with the aim of bringing the solution into operation before the end of this decade.