Published: 26 October 2022

26 October 2022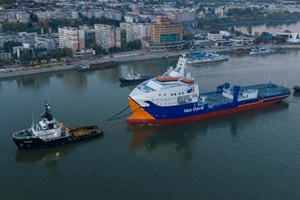 Van Oord's new cable-laying vessel Calypso is on its way to the Vard Brattvaag yard in Norway for construction finishing, after the launch at the Vard Tulcea shipyard in Romania.
It measures 131 metres in length and 28 metres across the beam and will be Dutch flagged. The new DP2 vessel will not only be fitted with a carousel on deck but also with a second, below-deck cable carousel, with a total cable-carrying capacity of 8,000 tonnes. The Calypso will mainly be deployed to install inter-array grid and export cables for offshore wind projects, including high-voltage direct current (HVDC) cables. Van Oord's cable trenchers can also be operated from the vessel. The vessel is expected to be operational from the end of 2023 on.