Published: 04 November 2022

04 November 2022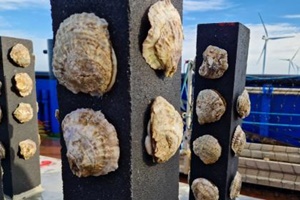 Four oyster tables – structures made of concrete and other material on which live oysters are placed – have been installed at Luchterduinen offshore wind farm. By placing the oyster tables there, the Rich North Sea programme, energy company Eneco and marine contractor Van Oord are working to restore oyster reefs in the Dutch North Sea.
Until about 200 years ago, 20% of the Dutch North Sea had large-scale oyster reefs. Now there are hardly any natural oyster beds left in the North Sea. The new oyster table design is tailored specifically to the prevailing conditions at Luchterduinen, with its strong currents and abundance of sand. The new tables weigh more than 3,000 kilos and are weighted at the bottom for extra stability. They are also installed on the scour protection around the turbine to prevent them from sinking into the sandy seabed. Instead of being placed in baskets, the live oysters are – for the first time ever – glued to vertical rods in the new design so that they have enough fresh water and oxygen to survive and reproduce.
The oysters placed on the oyster tables may release larvae next year that can settle on a hard surface, for example on the scour protection around the wind turbines. Lending the oysters around wind turbines in wind farms a helping hand gives oyster reefs a chance to develop. Future monitoring missions will therefore focus on the oysters' growth, survival and reproduction.
The first pilot project to be carried out under The Rich North Sea programme commenced in 2018 at Luchterduinen wind farm, located 23 kilometres off the Dutch coast at Noordwijk aan Zee. The pilot involved installing oyster cages and reef cubes at the wind farm, which has been operational since 2015. Now, four years later, researchers are installing the new oyster tables, the design of which is based on lessons learned from the previous projects at the wind farm.