Published: 23 October 2020

23 October 2020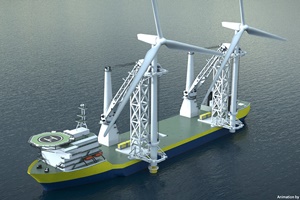 Offshoretronic has unveiled a dual crane wind turbine installation vessel design and a concept called ADD-ON Installation Support Tower, which can be fitted onto the vessel.
With this new transportation and installation method the company is utilising the same vessel unit for the installation of all kinds of offshore wind foundations and for the transport and installation of wind turbines as one single unit. With this concept Offshoretronic aims to transport and install two complete finished wind turbines up to 10MW in one single turn-around trip. For larger turbines Offshoretronic can install the tower and the nacelle as one single unit whilst the turbine blades could be installed with a smaller size jack-up vessel in an assistance mode. The ADD-ON Installation Support Tower is fully modular and can be installed and removed by the vessels own heavy lift mast cranes.