Published: 22 October 2021

22 October 2021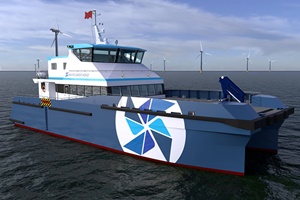 Mayflower Wind has announced the signing of an agreement with Gladding-Hearn Shipbuilding/Duclos Corporation of Somerset, MA, USA for the specification, design, and manufacture of Jones Act-compliant, hybrid battery diesel electric crew transfer vessel.
Design of the vessel would occur during 2022-2023, setting the stage for building and launching the hybrid CTV in the mid 2020's. The design of this CTV utilises technologies that will provide fuel savings and emissions reductions, including the use of Lithium-Ion battery energy storage to create a hybrid vessel that will be a bridge to full electrification. The multi-party agreement includes other maritime collaborators from across the globe including Incat Crowther (Australia/UK/Lafayette, LA), BAR Technologies (UK), Corvus Energy (Norway), and ABS (Spring, TX, USA) and will proceed if Mayflower is awarded a contract under the latest Massachusetts procurement for offshore wind.