Published: 27 September 2022

27 September 2022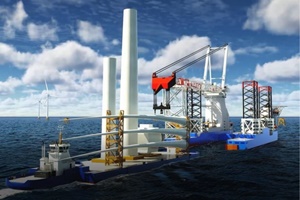 A consortium led by Hamburg-based ONP Management and Boston-based Renewable Resources International has developed the Jones Act compliant transport and installation vessel solution Feederdock.
The parties engaged Hamburg-based Tractebel Overdick, a naval architects group for the design of heavy lift jack-up vessels. Tractebel Overdick developed the complete design and engineering package of the Feederdock main vessel from the initial concept design throughout the basic design phase. The Feederdock assets will be operated by Bremen-based Atheleon, formerly known as SAL Renewables and part of the Harren Group. With a crane capacity of 3,000 tons and a crane hook height of up to 182 meters above deck, Feederdock is designed to install the 25 MW wind turbine generation including foundations up to 2,800 tons. Its leg length of 131 meters grants the ability to cope with water depths of up to 70 meters. Feederdock applies European installation methodology with its U-shaped, heavy lift jack-up installation vessel, paired with US built Jones Act Articulated Tug Barges (ATBs) docking inside the installation vessel before jacking-up . The American Bureau of Shipping (ABS) is accompanying the project to review and class the vessel and has issued the Approval in Principle (AIP) in 2020. Enabled by shipyard capacity reservation and secured supply chain of experienced and reputable industry leaders, the vessel construction works are planned to commence in 2023. Feederdock is scheduled to be ready for operations in US waters in 2026.