Published: 21 September 2021

21 September 2021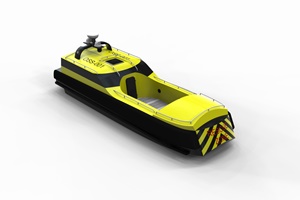 Zelim, a start-up developing a lifesaving system for offshore energy, has partnered with naval architect Chartwell Marine to deliver a remotely operated rescue vessel.
The 'Survivor Class' vessel has been designed 'casualty first', with accessible features to address limited mobility challenges, such as a rescue conveyor for recovering MOBs from the water, easy-open door handles, an air-conditioned cabin, and a helicopter pick up zone. The vessel will be mounted onto offshore structures and deployed into the water via a 25m free fall following MOB or helicopter downing incidents. The vessel is able to operate in significant wave heights of 4.5m. the consortium secured Innovate UK funding on two separate occasions, accelerating project timelines to complete the preliminary design phase. The last tranche of funding is being used to deliver the full design and shipyard tender, build oversight and testing.