Published: 16 August 2022

16 August 2022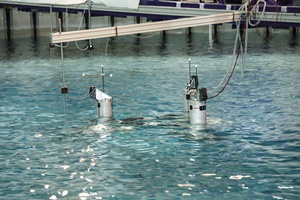 As part of the EuropeWave Programme, Bombora Wave Power (Bombora) has completed tank testing of a floating foundation system suitable for the InSPIRE solution, where mWave technology is combined with a wind turbine onto a single floating offshore platform.
An adapted version of the semi-submersible INSPIRE platform, developed in partnership with TechnipFMC, underwent tank testing evaluations to confirm the system loads and dynamics at the FloWave test facility at the University of Edinburgh. The InSPIRE Project brings together Bombora's multi-megawatt mWave technology which converts wave energy into electricity, with TechnipFMC's technologies and experience in delivering integrated Engineering, Procurement, Construction and Installation (iEPCI) projects offshore. This tank testing program follows the Pre-FEED phase of the InSPIRE Project completed earlier in 2022 based on the integration of a 4MW mWave solution with a 10MW wind turbine on a single semi-submersible floating foundation system.