Published: 13 July 2023

13 July 2023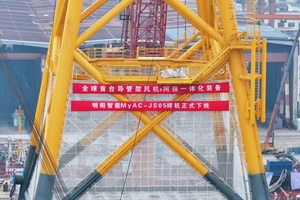 Mingyang has announced the completion of the production of its first hybrid "jacket+net cage" system for fish farming, the MyAC-JS05.
The MyAC-JS05 is a typhoon-resistant aquaculture system built to withstand Class-17 typhoons with wind speeds of up to 61.2 m/s. This ensures a safe farming environment for 15,000 groupers in deepwater. With an estimated annual fish production of 75 tonnes, this project has the potential to generate an additional 5 million RMB in revenue. Later this month, the company will install the pilot system at a MySE 12-242 offshore wind turbine, part of the 500 MW Mingyang Qingzhou 4 offshore wind farm currently under development.