Published: 24 August 2022

24 August 2022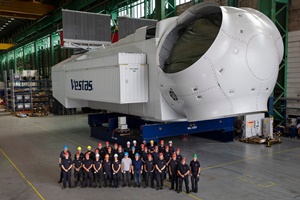 Vestas has completed of the prototype nacelle of the V236-15.0 MW offshore wind turbine at its factory in Lindø, Denmark. The new design is now ready for testing.
In addition to mechanical testing, the turbine's controlling software will undergo strict control. The test program ends with the physical rotation of the turbine drive train before the nacelle ships to the Østerild test site for its installation. This prototype nacelle features Vestas' modular nacelle design. The side-compartments are designed to correspond to general industry dimension standards. One single turbine is capable of producing up to 80GWh/Year depending on site-specific conditions.