Published: 24 August 2022

24 August 2022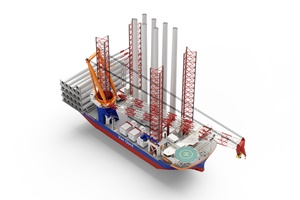 ABB has secured a contract with Yantai CIMC Raffles Shipyard in China to supply an integrated power, automation and propulsion system for the newbuild jack up vessel Boreas.
The vessel is due for delivery to the owner, Dutch marine contractor Van Oord, in the second part of 2024. Boreas measures 175 meters in length and it will be able to lift over 3,000 tons and will feature 126-meter-tall legs allowing it to operate at depths of up to 70 meters jacked up, with a capacity to install up to 20MW offshore wind turbines. Boreas will be equipped with four Azipod propulsion units with a combined propulsion power of 16 megawatts. ABB's hybrid-electric propulsion system is fully future-proof as it allows integration of new energy sources once they become available. Azipod propulsion is a gearless steerable propulsion system where the electric drive motor is housed within a pod outside the ship hull. Azipod units can rotate 360 degrees, increasing manoeuvrability and operating efficiency of vessel, while cutting fuel consumption by up to 20 percent compared to conventional shaftline systems.