Published: 13 October 2021

13 October 2021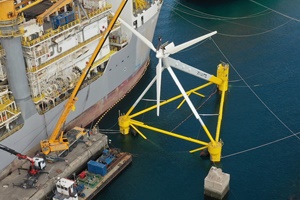 X1 Wind has completed the rotor assembly for its floating wind platform.The firm's X30 prototype is now fully assembled in Las Palmas, Gran Canaria, Spain ready for installation.
Fitted with a specially adapted V29 Vestas turbine, the 'downwind' system is able to 'weathervane' and orientate passively with the wind. X1 Wind's platform has a low draft and the ability to reach deeper waters by a Tension Leg Platform (TLP) mooring system - with a small seabed footprint.