Published: 08 October 2021

08 October 2021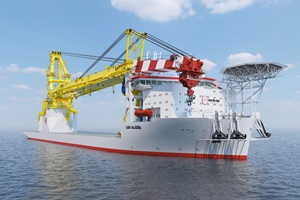 Jan De Nul Group has selected Remazel for the delivery of a set of cradles, a skidding system and an upending hinge for its new floating installation vessel Les Alizés to handle and install large monopiles.
The design of this fully automated monopile installation system is tailor-made for Les Alizés. Les Alizés will use the monopile cradles on her deck to store monopiles. The monopile cradles can automatically adjust their supporting diameter. If required, the cradles can also support the tapered section of the monopile. The skidding system is needed to optimize the use of the deck and will enable Les Alizés to transport the monopiles in between the monopile cradles and the upending hinge. The upending hinge can accommodate monopiles weighing over 3,000 mt. The tub-mounted crane brings the monopile in a vertical position using the upending hinge. Once upended, the monopile is placed into the monopile gripper by the tub-mounted crane.