Published: 14 September 2021

14 September 2021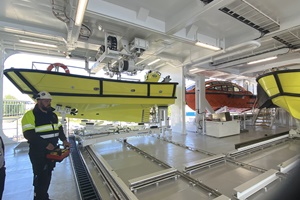 Nexans has put to the test Vestdavit's MissionEase boat-handling system on its newbuild Nexans Aurora ahead of starting installation work on renewable power projects worldwide.
The use of MissionEase on the vessel constructed at Norway's Ulstein Verft shipyard marks the first commercial delivery for Vestdavit of the full-scale system, which comprises an inboard hangar with an automated track-and-trolley system to launch multiple craft from either side of the ship. The MissionEase hangar will accommodate and handle a total of eight heavy-duty workboats that will be used by Nexans to control the float-in of cable ends to shore, as well as for inspection, maintenance and repair work on cables close to shore and shallow-water surveys. The vessel has been undergoing final commissioning and testing following a successful sea trial after being delivered on time on 31 May this year by Ulstein. It is set to lay cables on the Empire Wind project off the US East Coast, as well as the Seagreen wind farm off Scotland and Crete-Attica interconnector in Greece.