Published: 14 September 2021

14 September 2021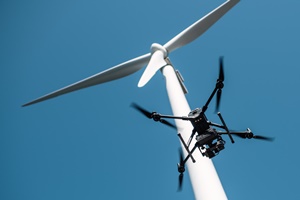 Sulzer Schmid and Enertrag Betrieb have teamed up to provide a new wind turbine blade inspection solution that integrates Enertrag Betrieb's lightning protection systems (LPS) testing solution with Sulzer Schmid's UAV technology and digital inspection platform. This solution will enable LPS testing to be carried out at the same time as rotor blade inspections.
Enertrag Betrieb has developed a process for LPS testing. Using an intermittent AC voltage of up to 6000V, which is close to the reality of a lightning strike, the voltage is fed into the LPS located at the root of the wind turbine rotor blade which then generates an intermittent electric field around the blade. If the electric field is detected in the area of the blade tip, the lightning protection system is functional. If the electric field does not reach the blade tip, this indicates a damage to the lightning protection system. The damage is located where the electric field stops in the direction of the blade tip. The two companies have co-developed a non-contact testing solution by mounting the LPS measuring equipment onto the DJI M300 RTK blade inspection drone and integrating the results within Sulzer Schmid's 3DX Blade Platform. The development of the prototype and its test phase has already been completed.