Published: 29 June 2022

29 June 2022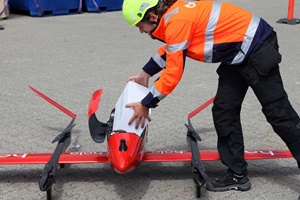 Ørsted and DSV will test long-distance drone transport of spare parts and tools in the Kattegat. The oversea trials from Grenaa to Anholt are the first of their kind. The test flights will run over two weeks, during which the drone will demonstrate that it is capable of delivering components from Ørsted's operations base at the Port of Grenaa to the offshore substation 25 km out at sea and, potentially, to the wind turbines.
The trials will be conducted using an electric drone with a range of 100 km and a payload capacity of 2.5 kg. The aim of the trials is to test whether cargo drones can serve as a realistic logistics supplement for the company's many offshore wind farms in operation. DSV has engaged the services of Swiss drone supplier RigiTech and Danish operator Holo, both of whom specialise in autonomous mobility solutions. RigiTech and Holo will both support the drone test flights.